Client views
Hannu Keinänen, CEO, Ensto
"I believe that this whole process we have made together has helped people to find the growth angle of this big strategic move. So, I would say yes, I believe the signs of the (culture) change are there already."
Read full testimonial »

"Yes, I would definitely recommend Co-founders. They have a very positive drive overall and a very brave and experimental approach – which made for a fascinating project together.

What differentiates Co-founders is the combination between art and company culture. It was almost mind-blowing to get to work with the writer Riikka Ala-Harja on the short story inspired by Ensto's culture and to gather our key people around the same topic when interpreting it. I believe it was an eye-opening process and it gave a tool for our people to talk about Ensto's culture and about the points that might need further development.

I think people found some support through this work, and it made them more positive towards the very big strategic change that we had during the past year, when we divested almost half of the company. It helped people to see a growth opportunity in this change, rather than take a negative approach on the fact that we became smaller."

Hannu Keinänen, CEO, Ensto
Tapio Pajuharju, CEO, Harvia
"We've been aware of Co-founders and we know that they have the skillset of almost McKinsey or Boston Consulting, but then they also have their feet on the ground, and they can work with our type of people and with the core members within the company – and that's why we chose Co-founders."
Read full testimonial »

"We chose Co-founders as a partner in order to speed up the transition from having an engineering mindset to an end-customer mindset. We wanted to achieve this change in a systematic manner.

What I like about Co-founders is that they combine the top consultancies' skillset with the ability to be close to the customer. Their approach is tailor-made. They really fine-tune the process. I witnessed an extremely good systematic approach throughout the project.

On top of that, Co-founders really took our core team members on board, and that made the execution much easier. The Co-founders team is very international, and they are very skilfull and experienced in their work."

Tapio Pajuharju, CEO, Harvia
Allan Ruberg, Board member, LEDiL
"I believe this is a format that companies with a strong engineering or technical DNA should use much more, as they sometimes seem to forget the Why questions and the Who questions. This work will not only result in the deeper re-thinking of the way that LEDiL see themselves as a company, but also to the way that they in the future will present themselves to the whole business ecosystem."
Read full testimonial »

"I didn't know Co-founders from before the work with LEDiL but working with them gave me a very good impression of their capabilities and I must say that it was a professional experience, providing us with the needed results and materials. It was an excellent brand strategy work and a process that I enjoyed a lot. It is a sensitive thing to work around a strong and successful company's identity and strategy, putting words on things that are taken for granted.

I experienced Co-founders having a good drive and enthusiasm in all of our meetings, where they also succeeded in gaining everybody's trust. The work done is the baseline for developing and positioning the LEDiL brand, giving the company a strong frame for how to communicate, differentiate and be relevant in the market in the future.

I especially appreciated the workshop format that Co-founders used. Formal meeting structures are not always suitable for facilitating qualitative development. The workshop was in this case a well-chosen key to promote cooperation, getting a more holistic understanding from all those involved. I feel that everybody in the group got the opportunity for dialogue and reflection that resulted in a better cooperation."

Allan Ruberg, Board member, LEDiL
Leif Frilund, President and CEO, Walki Group
"I think that Co-founders have a very strong understanding of Walki and our business logic. Through their work, they have become an extension of our team. Co-founders have really helped me and our team to understand how to lead and develop a brand in a deep and professional way."
Read full testimonial »

"What differentiates Co-founders is their holistic view and very deep approach to branding and concept creation. They have also good understanding of how to improve company culture. Their thinking is new, challenging and very professional.

If I were to recommend Co-founders, I would say just this: I don't think you will find this kind of in-depth view on branding, company culture, future trends from another consultancy. I think they don't have much competition at the end of the day."

Leif Frilund, President and CEO, Walki Group
Matti Hyytinen, Financial and Administrative Director, National Land Survey of Finland
"I've been extremely happy with their 'outside the box' way of thinking about our challenge and taking into account all of our stakeholders in the solution. So that it all becomes about more than marketing, a genuine desire to understand and solve the pain points with the customer and other stakeholders."
Read full testimonial »

"Co-founders was asked to develop a concept that helps us to increase the attractiveness of the whole land surveying-field in the eyes of the young.

The strength of Co-founders as a partner lies in their ability to in a very holistic way understand different actors in our society. It was very inspiring to work with them and they really managed to get the whole team on board. By co-creating together, we managed to come up with some quite surprising solutions that we then developed further to concrete and scheduled actions.

Agility, a strategic mindset, and an understanding of how our society works and recognising the needs of our stakeholders are clearly some of Co-founders´ core strengths. "

Matti Hyytinen, Financial and Administrative Director, National Land Survey of Finland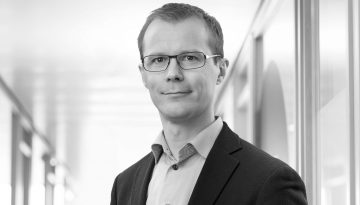 Riku Patokoski, former Executive Vice President, Hoivatilat
"Definitely, if you need strategic brand competence and competence in concept development with very high focus on business, then I would definitely recommend Co-founders as a very good partner in this kind of work."
Read full testimonial »

"We had a strategic decision at Hoivatilat to expand our scope into larger projects – service environments, or service communities as we call them, and we needed help in that work. We wanted someone who could challenge our thinking and bring in new ideas, and that was the reason why I approached Co-founders.

I didn't have to have a very precise question or task to give, but we actually formulated a project together. We had some ideas of where we wanted to go, but how to do the project – there Co-founders helped us a lot. To me, that defines strategic work. With strategic work you don't have the plan ready, but instead you work on it together.

Co-founders provided us with innovative and fresh thinking in our work and with a very fast and ambitious approach in our business area – which they learned really quickly. That is what makes Co-founders different – the speed and the ability to learn a new business and its environment. The very high business focus, the fresh approach and the customer focus were clearly added values when working with Co-founders."

Riku Patokoski, former Executive Vice President, Hoivatilat